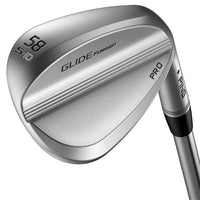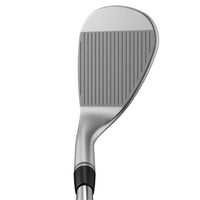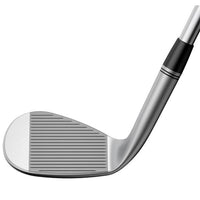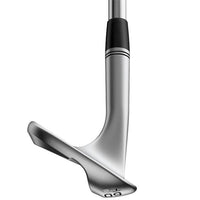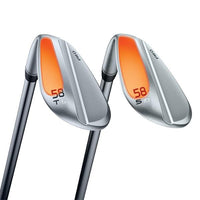 Ping
Ping Glide Forged Pro Wedge Gents
Ping Glide Forged Pro Wedge Gents 
In consultation with PING pros, PING have custom engineered Glide Forged Pro wedges for discerning shot makers with a smaller, forged 8620 carbon steel head and precision machined grooved for predictable, consistent results. A new face blast adds friction to increase spin and control across a newly expanded range of lofts and specialized sole grinds to fit your game.
Shot makers Profile
The tour preferred shape is shorter heel to toe and through the hosel transition, accentuating the smaller profile to ensure the compact, captured look that is favoured by the games best players.
Friction Face
Fully machined, steeper wheel-cut grooved plus added texture from a new Emery face blast ensure consistent launch conditions and spin from wet to dry conditions for predictable results.
Special Grinds
New stock "S" and "T" grinds allow you to be custom fit for the loft/grind combination that suits your angle of attack and most common turf conditions.
S Grind
Moderate bounce, rounded lead edge, broadest appeal
T Grind
Narrower sole, approx. 3 degree less bounce than S, high versatility
EYE2 Toe 59 Degree
Karsten Solheims iconic high toe shaping has approximately 1.5 degree less bounce than S grind and creates a look at address that has appealed to generations of golfers
Key Technologies
Precision forged
Shot makers profile
Machined face and grooves
Friction face with Emery blast finish
Hydro pearl 2.0 finish