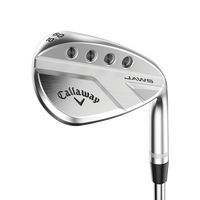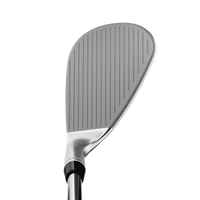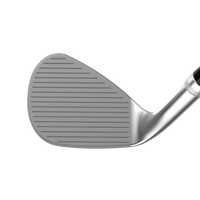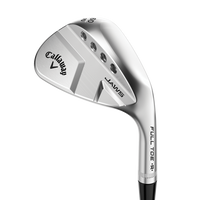 Callaway
Callaway JAWS Full Toe Raw Face Chrome
Callaway JAWS Full Toe Raw Face Chrome
SPIN MACHINE
Jaws Full Toe wedges combine full face JAWS grooves, offset groove-in-groove technology and an all-new raw face, giving you the spin and control you need to pull off every shot around the greens.
CONFIDENCE & VERSATILITY
The Full Toe shape provides more face area with an enhanced toe peak. The shaping works with the specialized C-Grind to make short shots around the green easy to hit, especially bunker shots and high flops. This wedge is built to perform on mid and full wedge shots too, with great turf interaction so you can stick it close
CONTROLLED TRAJECTORY
The JAWS Toe Pad pushes the CG higher, for a design that creates a lower, more controlled trajectory. Our Variable Weight Port System helps us locate the CG away from the heel, for solid contact and enhanced feel.
| | | | | | | | |
| --- | --- | --- | --- | --- | --- | --- | --- |
| 54° | RH / LH | 12° | C-GRIND | 35.25" | 64.0° | D3 | D2 |
| 56° | RH / LH | 12° | C-GRIND | 35.25" | 64.0° | D3 | D2 |
| 58° | RH / LH | 10° | C-GRIND | 35.00" | 64.0° | D3 | D2 |
| 60° | RH / LH | 10° | C-GRIND | 35.00" | 64.0° | D3 | D2 |
| 64° | RH / LH | 10° | C-GRIND | 35.00" | 64.0° | D3 | D2 |