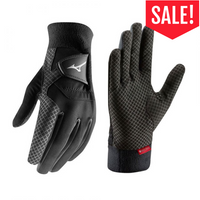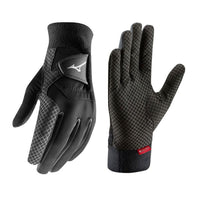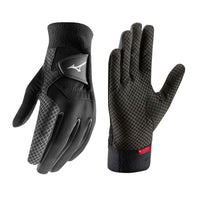 MIZUNO
MIZUNO THERMAGRIP GOLF GLOVES Men's Pair
MIZUNO

 

THERMAGRIP 

GOLF GLOVES (PAIR PACK)
Mizuno ThermaGrip Golf Gloves (Pair Pack)
Greater Warmth With Breath Thermo Design

For the very coldest days – with fleece lined cuff and brushed palm, the ThermaGrip Gloves are your ideal choice. Using Breath Thermo technology, Mizuno's remarkable warming fabric that converts trace body moisture into new heat.

- Windproof, breathable synthetic fabric for enhanced comfort.

- 3 Dimensional patterning provides a comfortable, natural fitting glove through pre-curved panels.

- Angled velcro pull tab to ensure a secure, firm and tight fit.

- Breath Thermo heat generating performance.