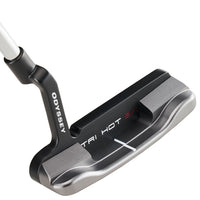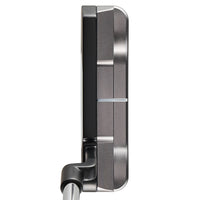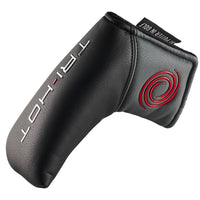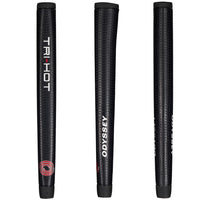 Odyssey
ODYSSEY TRI-HOT 5K ONE GOLF PUTTER Men's
ODYSSEY TRI-HOT 5K ONE GOLF PUTTER


Product Details
The Odyssey One 5K One Golf Putter  
The Tri Hot 5k range from Odyssey consists of five different models that benefit from a multi-material construction that helps them to deliver mass properties unlike any other blade on the market. Each of the different models is presented in a classic shape that will more than likely appeal to the better golfers out there. A combination of Stainless Steel, Tungsten and Milled 6061 Aircraft grade Aluminium has allowed Odyssey to create a range of putters that have inertia levels exceeding 5000 IZZ which is completely unheard of in a blade style putter. This stunning new collection of putters also sees the return of the White-Hot insert which was undoubtedly the most popular of all time. The Odyssey Tri-Hot 5K One is a classically shaped heel-toe weighted putter with a crank neck hosel. This creates a moderate amount of toe-hang making it most suitable for strokes that have moderate arc and face rotation.
The Tri-Hot 5K range has been constructed to improve performance by reducing the amount of side spin on off-centre hits. Odyssey have achieved this through a 303 stainless steel front section that includes the hosel and face area. This material has been finish milled to exact shape and weight, helping to keep the CG forward. This means that putts will remain closer to the original line, with a much tighter dispersion, and a greater chance to go in on less-than-perfect strikes. The Tri-Hot putters also have interchangeable front weights that allow you to dial in the head weight in to be ideally suited to you. They are available in aluminium, steel and tungsten with each material weighing a significantly different amount from the others.
The Odyssey Tri-Hot 5K One also benefits from having the Red Stroke Lab Shaft installed in it, a shaft that was incredibly popular on tour last year and helped Jon Rahm secure victory at the U.S. Open. This version of the Stroke Lab has been enhanced over its predecessor and now contains a shortened steel section that has allowed the weight to be reduced by 7 grams. It has also been made stiffer which brings a level of stability than can only help improve your putting. The Stroke Lab style of shaft works, and it has been proven time and time again at the highest level. 
FEATURES 
High Performance and Tight Dispersion From Stainless Steel Front
Unprecedented Forgiveness For A Blade and Improved Roll From Tungsten Front Weights
Interchangeable Front Weights
Legendary White Hot insert
Red Stroke Lab Shaft
| | | | | | | | | |
| --- | --- | --- | --- | --- | --- | --- | --- | --- |
| Model | Hosel Type | Headweight | RH/LH | Loft | Lie | Length | Offset | Toe Hang |
| One | CH | 360 | RH and LH | 3 | 70 | 33, 34, 35 | Full Shaft | 52 |
| Two | CH | 360 | RH | 3 | 70 | 33, 34, 35 | Full Shaft | 50 |
| Three | F | 360 | RH | 3 | 70 | 33, 34, 35 | Half Shaft | 70 |
| Double Wide | CH | 365 | RH and LH | 3 | 70 | 33, 34, 35 | Full Shaft | 42 |
| Triple Wide | DB | 365 | RH | 3 | 70 | 33, 34, 35 | Full Shaft | 0 |