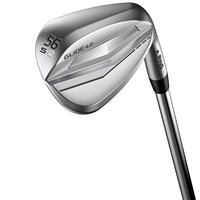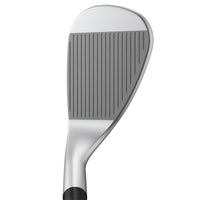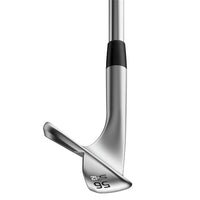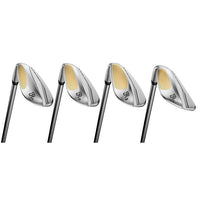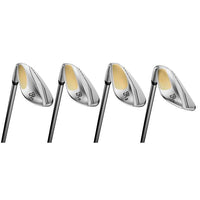 Ping
Ping Glide 4.0 Wedge Gents
Ping

 
Glide 4.0 Wedge Gents RH


CONTROL YOU CAN FEEL.
A precision-machined face and grooves and new textured face blast increase spin and control, a larger CTP and softer steel improve the feel, and four distinct grind options maximize versatility on full and finesse shots around the greens and from the bunker. The compact, refined profile provides a confident and captured look at address.
8620 CARBON STEEL BODY, ELASTOMER CTP INSERT
The multi-material construction combines 8620 carbon steel with a larger and softer elastomer insert to provide a soft, responsive feel. The additional volume of the custom tuning port allows for 36% more face contact.
COMPACT SHAPE
The Glide 4.0 setup appeals to the eye with its rounded, compact design that benefits from advancements to the lead edge and hosel transition.
MILLED GROOVES & FACE BLAST
In combination with the precision-milled face and grooves, the new Emery face blast adds more texture to the hitting surface, creating higher friction and more interaction between the club and ball for more spin and lower launch.
FULL SHOTS:
Lower-lofted wedges (50° and 52°) feature a 20° sidewall milled to maximize groove volume.
AROUND THE GREEN:
Higher-lofted options (54° - 60°) are milled with a 28° sidewall and a tighter radius to impart more spin and precision on shorter finesse shots and from the sand.
FOUR GRIND OPTIONS
Four differentiated sole grinds (S, W, T, E) are designed to match your angle of attack and typical turf conditions for improving your performance and versatility on full and partial shots.
S GRIND
Trail edge/heel relief

Ample bounce

Rounded lead edge

Fits most golfers
W GRIND
Traditional full-sole design
Most forgiving through the turf
Rounded lead edge
Optimized for square-face and bunker shots
E GRIND
High toe
Improved lead-edge shaping
Dished sole and tapered hosel for bunker performance
T GRIND
High lead-edge bounce
Half-moon sole shaping
Increased centre bounce width

Specifications

NOTES

These are design specifications that may vary due to manufacturing tolerances.
Lie angle is based on Black Colour Code at standard length.
The standard swing weights shown are with the PING Z-Z115 steel shaft.
Standard swingweights for graphite-shafted clubs are 2 to 3 points lighter than shown, depending on shaft flex.
Achievable swingweights depend on shaft, length and grip combinations.
Available in left- and right-handed models.